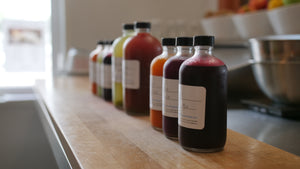 Juice Cleanses
Cleansing is one of the best ways to give your gut a healthy break. Our cleanses are formulated to aid your digestive system in recovery from our daily stresses and to help support, detox, and revitalize your organs during this time of rest.
We recommend consuming 8oz of juice every hour for eight hours. Our juices are to be consumed in the form of an 8/16 "intermittent fast", where you drink the juice within an eight-hour window, with a 16-hour window of fasting. Drink plenty of water in addition to our juices to help keep you hydrated and feeling satiated throughout your cleanse.
Start your day
Master G shot (4oz)

Celery juice

Carrot juice

Gerson+ juice

Cucumber juice

Steel gut juice

Beet juice

O2 juice

Master G(4oz)
1 Day 8, 8 oz; 64 ounces - $62.70
Our one-day juice cleanse is our quickest and simplest reset for your digestive system. Perfect for the first-timer or if you're short on time but need a nice pick-me-up. Great if you're looking to add to your weekly self-care routine.
2 Days 8, 16oz; 128 ounces $118.80
If you're looking for an extra boost, our two-day cleanse is a great option. All the benefits of a one-day cleanse with an added day of support and cleansing. This package includes 128 oz of fresh-pressed, organic juices.
3 Days 8, 24 oz; 192 ounces $156.67
To kick it up a notch, our three-day cleanse is where it's at! This package is for a deeper detox to help rid the body of toxins and build-up. This cleanse is ideal for a monthly detox. This package includes 192 oz of fresh-pressed, organic juices.
5 Days 8, 40 oz; 320 ounces $260.00
For the veteran of the cleansing world, our five-day juice cleanse will provide maximum detoxing benefits! This package is ideal for seasonal or quarterly cleansing. This package includes 320 oz of fresh-pressed, organic juices.